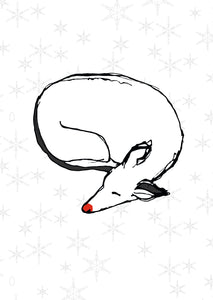 Charity Christmas cards are available for a limited time only!
In 2020 we teamed up with a number of sighthound owning female artists who designed exclusive cards for us.
Each pack contains 5 cards of a single design with envelopes.
Proceeds from each pack will go to support a number of rescues this year.
Please note the cards will ship from mid November.
About the artist 
Anna Mihalyffy Is a Hungarian designer working with leather, jewellery, textiles and print.  
When Anna adopted her dogs, she wanted to help her local dog rescue so started to design postcards to support them. 

Anna also produces beautiful one off silk scarves which she donates to charity auctions to continue the support of rescues around the world.
See Anna's work on Instagram @greloinsta