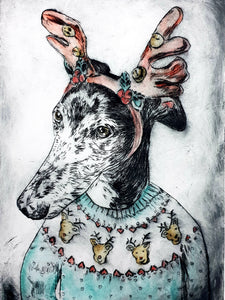 Charity Christmas cards are BACK for a limited time only!
In 2020 we teamed up with a number of sighthound owning female artists who designed exclusive cards for us.
Each pack contains 5 cards of a single design with envelopes.
Proceeds from each pack will go to support a number of rescues this year.
Please note the cards will ship from mid November.
About the artist 
Katrina Wheaton is a Melbourne-based art and design practitioner. As well as her own artistic practice, Katrina also teaches students from Kinder through to Year 12. Her transition into 'Hound' art began with the adoption of her gorgeous greyhound, Amy, who has since become her muse. Katrina's speciality is recreating hounds in nearly every art style, medium and colour palette.