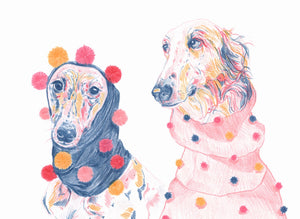 Charity Christmas cards are BACK for a limited time only!
In 2020 we teamed up with a number of sighthound owning female artists who designed exclusive cards for us.
Each pack contains 5 cards of a single design with envelopes.
Proceeds from each pack will go to support a number of rescues this year.
Please note the cards will ship from mid November.
About the artist 
Kitty Draws Dogs, is a London based illustrator who specialises in drawing dogs by hand. Using watercolour and pencils she captures each dogs unique character and bring them to life on paper.
Kitty's whippet Margo likes to be part of the action and sits under her desk while she works!
Kitty has two drawing styles - classic and contemporary. For the SHS Christmas card she  chose to use her playful contemporary style, after  who doesn't love dogs in jumpers…