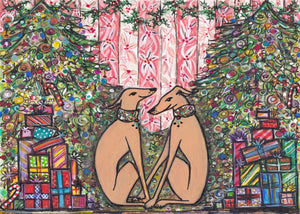 Charity Christmas cards are BACK for a limited time only!
In 2020 we teamed up with a number of sighthound owning female artists who designed exclusive cards for us.
Each pack contains 5 cards of a single design with envelopes.
Proceeds from each pack will go to support a number of rescues this year.
Please note the cards will ship from mid November.
About the artist 
Zoe Marsden is a surface pattern artist producing individually hand painted luxury dog collars predominantly for sighthounds, all made in her small work space with her Italian Greyhound Tulipan on a one hundred year old Dutch barge in the heart of the British countryside.

Original designs are hand painted onto each leather collar with specialist paints and finished with a clear double top coat for durability. Only small batches of each design are ever made - ranging from tiny Italian greyhound to extra large Deerhound/lurcher, so each collar is unique and special. The collars feature quality leather and a softly padded suede lining and are inspired by folklore, magical forests and the natural world.

To see all of Zoe's latest work please take a look on Instagram @lastnightinlimehouse and for shopping and commission - www.etsy.com/uk/shop/